Working With Cancer Pledge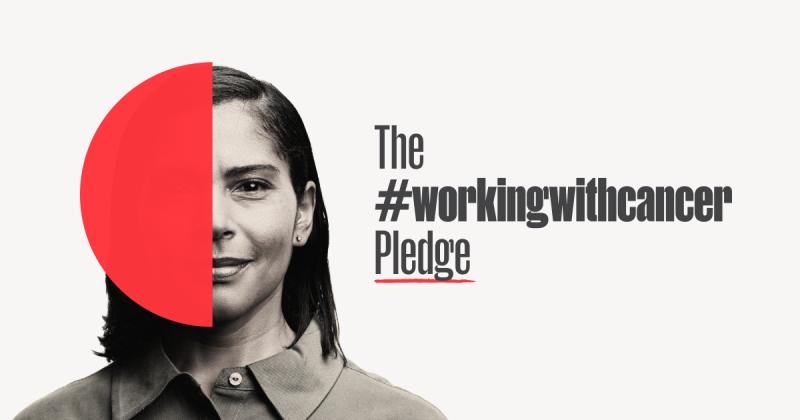 In a world where one in every two people will be diagnosed with cancer in their lifetime, the Publicis Foundation has launched the first cross-industry coalition to erase the stigma of cancer in the workplace, supported and partnered here in the UK by Working With Cancer and Macmillan Cancer Support.
The campaign is anchored in the stark reality that half of us will be diagnosed with cancer in our lifetime, so all of us have a responsibility to support cancer patients at work. Central to this call is a campaign film, 'Monday' which depicts the often harrowing experience of people living with cancer and the vital importance of workplace support. Many of the crew behind 'Monday' are cancer survivors and caregivers themselves, bringing personal and authentic resonance to a film that highlights a universal issue.
The campaign already has the support of over 200 organisations including Abbvie, Adobe, AXA, Bank of America, BNP Paribas, Barclays, BT, Carrefour, Citi, Disney, EE, Google, Haleon, Lewis Silkin, L'Oréal, Lloyd's, LVMH, Marriott, McDonald's, Meta, Mondelez, Microsoft, MSD, Nat West Nestlé, Orange, Omnicom, Pepsico, Reckitt, Renault Group, Sanofi, Toyota, Unilever, Verizon, and Walmart.
Signing the pledge is not difficult.
If you are representing an organisation visit the website here and complete the steps on this page. Then, why not contact us to find out how we can help you bring the pledge to life within your company. We are the UK's largest dedicated supplier of work and cancer services. You can contact us here.
If you would rather just demonstrate your personal support, please visit the website here and scroll down the page to where you can create your own #workingwithcancer badge and help spread awareness.
Whatever you decide to do, your support for working cancer patients is much needed and greatly appreciated. You can read more about the origin of the campaign and new research undertaken in its support here.