Useful Links
Download our Best Practice Guides for people affected by cancer by clicking here.


Key websites
Macmillan
A variety of information – booklets and fact sheets – about cancer, cancer treatments and its effects on life and work can be ordered from Macmillan.
www.macmillan.org.uk
To order booklets, visit be.macmillan.org.uk. or call 0808 808 00 00

You can also download from here the following useful pdfs:
Self-employment and cancer: a guide for the self-employed about work and cancer. Download here.
Help with the cost of cancer: a guide to benefits and financial help for people affected by cancer. Download here.
Your rights at work: a guide to your employment rights including carers' rights. Download here.
10 Top Tips for line managers. Download here.
---
Cancer Research UK
It contains patient information on all types of cancer.
www.cancerhelp.org.uk
National Cancer Institute (National Institute of Health, USA)
Gives information on cancer and treatments
www.cancer.gov
Dept for Work and Pensions
Covers a number of issues including work, benefits, retirement and disability.
www.dwp.gov.uk
Directgov
The UK government's digital service for people in England and Wales.
Includes details on how to contact your local Jobcentre.
www.direct.gov.uk
NHS Choices
The country's biggest website and gives all the information you need to make decisions about your health.
www.nhs.uk
NHS 24 in Scotland
NHS health information site for Scotland
www.nhs24.scot
NHS Direct Wales
NHS health information for Wales
www.nhsdirect.wales.nhs.uk
Patient UK
Provides non-medical people in the UK with information about health and
disease. Also reviews and links to many health and illness-related websites.
www.patient.co.uk
TUC: Trades Union Congress
Has information about employment and disability rights.
www.worksmart.org.uk
---
Miscellaneous
Taking Cancer On
Taking Cancer On is a holistic well-being initiative to support all people living with cancer and their carers. It was initiated by patients for patients and has been co-created by Boehringer Ingelheim, patient  organisations and qualified experts. WWC is providing work related content for the site but in the meantime you can find information and videos about nutrition, exercise and safeguarding your mental health by clicking here.
Back-to-Work Guide for Head and Neck Cancer patients
We partnered with Bristol Myers Squibb and the Head and Neck Cancer Community to develop the Back-to-Work Guide; a co-created resource designed to help people living with Head and Neck Cancer feel more confident when returning to work.
To download and read more, please visit any of the links below:
ONC-GB-2100092 | July 2021
Information on Skin Cancer Awareness & Prevention for People of Colour
https://thedermreview.com/skin-cancer-awareness-prevention-for-people-of-color /
---
Support for Carers
Carers UK
Offers information and support to carers. Can put people in contact with
local support groups.
Tel (England, Scotland, Wales) 0808 808 7777
Tel (Northern Ireland) 028 9043 9843
www.carersuk.org
Carers Direct
Provides information to help carers access the financial help they're
entitled to, as well as advice on getting a break from caring and
going to work.
Tel 0808 802 0202
www.nhs.uk/carersdirect
Cruse Bereavement Care
Provides bereavement counselling, information and support to anyone who has been bereaved. Has a network of branches across the UK.
PO Box 800, Richmond, Surrey
TW9 1RG
Tel 0844 477 9400
Young person's helpline 0808 808 1677
Email helpline@cruse.org.uk
www.crusebereavementcare.org.uk
The Loss Foundation
A registered charity providing support to people who have lost loved ones to cancer; spouses, family members, friends.
For information on any of their services you can contact Erin at erin@thelossfoundation.org or 07732-070-972.
https://www.thelossfoundation.org
For information about their research into complicated or prolonged grief you can contact Kirsten at kirsten@thelossfoundation.org
---
Other organisations offering support to cancer survivors
ASTRiiD
Aiming to connect the millions of people with chronic, often incurable and advanced health conditions with businesses seeking skilled volunteers or staff, ASTRiiD (Available Skills for Training, Refreshing, Improvement, Innovation and Development), is a first-of-its-kind professional matchmaking service. The ground-breaking charity helps people affected by chronic illness find a sense of normality through flexible employment.
www.astriid.org.uk
Cancer Black Care
Offers a range of information and support for people with cancer from
ethnic communities, their friends, carers and families. Welcomes people
from different ethnic groups.
79 Acton Lane
London NW10 8UT
Tel 020 8961 4151
Email info@cancerblackcare.org
www.cancerblackcare.org.uk
Cogmed
Cogmed is a scientifically validated method that improves working memory and attention which can be helpful if you suffer from chemo brain.
Working memory is key to the brain's processing capacity. It is vital for concentration, reasoning, learning and resisting distractions.
www.cogmed.com
Dimbleby Cancer Care (Charity & Research Office)
Dimbleby Cancer Care was established in memory of broadcaster Richard Dimbleby and exists to offer care and support to people living with cancer and to their families and carers. It has also developed the Cancer Care Map,a simple, online resource that aims to help people find cancer-related services in their local area.
4th Floor Management Offices
Bermondsey Wing
Guy's Hospital
Great Maze Pond
London SE1 9RT
Tel: 020 7188 7889
Email: admin@dimblebycancercare.org
www.dimblebycancercare.org
www.cancercaremap.org
Teenage Cancer Trust
The only UK charity providing young people with cancer specialised nursing care and support.
www.teenagecancertrust.org
Trekstock
Our mission is to provide support, guidance and connection to a community of young adults who have been diagnosed with cancer through unique experiences, specialist advice designed to keep them active during or beyond treatment, informative events and expert information.
Getting diagnosed with cancer is like becoming part of a club you never wanted to join – but know we're here to help you figure it out. Community is at the heart of what we do. If you've felt isolated in the wake of your cancer diagnosis, our community will help you feel connected.
Our vision is a future where anyone in their 20s or 30s who has heard the words "it's cancer" is given tailored support that matches their unique needs. We're the only charity that offers tailored support to this age group of cancer patients and we work to tackle social isolation and improve quality of life through and beyond their treatment.
www.trekstock.com
Email: hello@trekstock.com
Phone: 020 45417601
Shine Cancer Support
The only UK charity that exists exclusively to support adults in their 20s, 30s and 40s who have experienced a cancer diagnosis.
Tel: 07804 479413 (Mon-Fri, 10am – 6pm)
www.shinecancersupport.org
Something To Look Forward To
Something To Look Forward To is an award-winning social action charity that improves the emotional health and wellbeing of people affected by cancer and cancer poverty in the UK. They provide donated gifts and experiences including cottage holidays, restaurant meals, hotel stays, spa breaks, tickets to attractions, clothes vouchers and much more! They support people with any cancer diagnosis and their friends, families and carers up to one year post last treatment and offer continued support to people with a secondary diagnosis or who are receiving palliative care. Please visit their website to find out more and to access this service.
email
www.somethingtolookforwardto.org.uk
Ellie's Friends
Ellie's Friends is an online platform that enables adults living with cancer to access free and discounted services or products in their area.
The Eleanor Rose Foundation
C/O Objective Productions/2LE Media
Riverside Building
County Hall
Westminster Bridge Road
London
SE1 7PB
Tel: 07969 600673
Email: info@eleanorrose.org
www.elliesfriends.org
Inspiring Enterprise
Inspiring Enterprise is a project that helps unemployed and inactive people start their own business or become self-employed. We offer 1 to 1 support with advice, ideas and business planning, Business Essentials training courses, peer networking and workshops. The project is funded by the National Lottery Community Fund and the European Social Fund. All the support is free for eligible people. The service is mainly delivered in the Enterprise M3 LEP area. This covers large parts of Hampshire and West Surrey. Find more information here
WSX Enterprise
Wates House
Wallington Hill
Fareham PO16 7BJ|Tel: 0800 140 4537
Email: connect@inspiringenterprise.org.uk
www.inspiringenterprise.org.uk
Irish Cancer Society
Operates freephone cancer helpline, which is staffed
by qualified nurses trained in cancer care. You can also chat online
and use the site's message board.
43-45 Northumberland Road
Dublin 4, Ireland
Helpline 1800 200 700
Email helpline@irishcancer.ie
www.cancer.ie
Healthtalkonline
Contains information about some cancers and has video and audio clips of people talking about their experiences of cancer and its treatments.|
www.healthtalkonline.org
www.youthhealthtalk.org (for young people)
Bloodwise (former Leukaemia and Lymphoma Research)
Dedicated to researching blood cancers including leukaemia, lymphoma and myeloma. Research focuses on finding causes, improving diagnosis and treatments and running trials for people with blood cancer.
bloodwise.org.uk
Lymphoma Action
The UK's only charity focused exclusively on providing specialist information and support to help lymphoma patients, their relatives, friends and carers. They help people feel less vulnerable, more confident and more in control, which helps them cope and deal with their treatment.
3 Cromwell Court
New Street
Aylesbury
HP20 2PB
Tel: 01296 619400
Email: enquiries@lymphoma-action.org.uk
www.lymphoma-action.org.uk
Maggie's Centres
Located throughout the country, Maggie's Centres
are places to turn to for anyone affected by cancer.
You can access information, benefits advice, and emotional or psychological
support free of charge and under one roof. You don't have to make
an appointment or be referred.
1st Floor, One Waterloo Street
Glasgow G2 6AY
Tel 0300 123 1801
Email enquiries@maggiescentres.org
www.maggiescentres.org
Mesothelioma Guide
Mesothelioma Guide provides patients and their loved ones with resources, answers, and information over a wide spectrum of free assistance options. We know the learning curve with this disease is steep. But with our help, we hope to bend that curve to a manageable level and provide our patients with a sense that they always have someone to lean on.
Mesothelioma
Mission Remission
Mission Remission is an innovative new platform connecting & empowering cancer survivors. We provide a place to read and share experiences and practical strategies for life after cancer.
www.mission-remission.com
Cancer Support – Scotland
Offers information and support for cancer patients, families, friends
and health professionals. Runs a network of monthly support groups across
Scotland. Also provides counselling and complementary therapies.
75 Shelley R0ad, Glasgow G12 0ZE
Tel 0800 652 4531
Email info@cancersupportscotland.org
www.cancersupportscotland.org
Rarer Cancer Foundation
The Rarer Cancers Foundation exists to ensure that people with rarer cancers have access to the best services and outcomes.
The Rarer Cancers Foundation Unit 7B
Evelyn Court
Grinstead Road
London, SE8 5AD
United Kingdom
Toll-free: 0800 334 5551 (in the UK)
Telephone: 0208 692 2910
E-mail: helpline@rarercancers.org.uk (email not working at the moment)
Website: http://www.rarercancers.org.uk (website not working at the moment)
Riprap
Developed especially for teenagers who have a parent with In riprap, you can learn more about cancer and its treatment and through real stories you can read the experiences of other young people and share your own story.
www.riprap.org.uk
Tenovus Cancer Care
Based in Wales, Tenovus provides a range of services to people with
cancer and their families, including counselling, an 'ask the nurse' service
and benefits advice.
9th Floor, Gleider House
Ty Glas Road, Llanishen, Cardiff CF14 5BD
Helpline 0808 808 1010
Tel 029 2076 8850
Email post@tenovus.com
https://www.tenovuscancercare.org.uk
Cancer Focus Northern Ireland
Provides a range of services for people with cancer and their families,
including a free telephone helpline, which is staffed by specially trained
nurses with experience in cancer care.
40-44 Eglantine Avenue, Belfast BT9 6DX
Helpline 0800 783 3339
Tel 028 9066 3281
Email hello@cancerfocusni.org
www.cancerfocusni.org
Yes to Life
Yes to Life empowers people with cancer to make informed decisions about their cancer care options. They provide information to guide people through the confusing options for care and lifestyle choices.
Their aim is to help them make informed choices. They simplify the complex and facilitate access to expert knowledge.
Unit 4
The Energy Centre
Bowling Green Walk
London N1 6AL
Helpline 0870 163 2990
www.yestolife.org.uk
---
Other useful organisations
Access to Work
Provides advice and support to people with long term health conditions
and their employers to help meet the costs associated with work-related
obstacles.
South East and East England/London
020 8426 3110
Scotland and Northern England 0141 950 5327
South West England, Wales and Central England 029 2042 3291
www.gov.uk/access-to-work
Access to Work (Northern Ireland)
Gives support and advice to employees with disabilities and their employers.
Advisory, Conciliation and Arbitration Service (ACAS)
Helpline 0300 123 1100 (available Monday to Friday 8am-6pm)
www.nidirect.gov.uk/access-to-work-practical-help-at-work
ACAS
Provides free and impartial advice about employment rights and about employment disputes.
ACAS also published a very helpful guide on dealing with bereavement.
www.acas.org.uk
Managing bereavement in the workplace – a good practice guide
Developed in partnership with Cruse Bereavement Care (see below) and many other organisations. Download the guide here.
Evenbreak
Evenbreak is a specialist online job board that can help you find work with employers who are inclusive and value their staff.
402 Metro Central Heights
London SE1 6DX
Tel: 0845 658 5717
www.evenbreak.co.uk
Equality Commission Northern Ireland
Aims to advance equality, promote equality of opportunity, encourage good
relations and challenge discrimination through promotion, advice and enforcement.
028 9050 0600
www.equalityni.org
My Doctor London
www.mydoctorlondon.co.uk
T: 020 3026 6254
email enquiries@mydoctorlondon.co.uk
Provides a range of high quality, affordable and convenient Medical Services in Central London, including GP appointments, blood tests, prescriptions, imaging and specialist referrals. We can provide medical and occupational health advice regarding work-related issues for people affected by cancer.
We are Undefeatable
"We Are Undefeatable" is a movement supporting people with a range of long term health conditions (including cancer), developed by 15 leading health and social care charities.
Their purpose is to support and encourage finding ways to be active that work with each person's conditions, not against them.
Contact WeAreUndefeatable@ageuk.org.uk for further information.
---
Financial and Legal Advice
Benefit Enquiry Line Northern Ireland
Provides information and advice about disability benefits and carers' benefits in Northern Ireland.
Tel 0800 220 674
Textphone 0800 243 787
www.nidirect.gov.uk/money-tax-and-benefits
Citizen's Advice
Citizen's Advice Bureaux provide free, confidential, independent
advice on a variety of issues including financial, legal, housing and employment.
Find contact details for your local office
in the phone book or at citizensadvice.org.uk
Find advice for the UK online in a range of languages at adviceguide.org.uk
Citizens Advice Scotland
www.cas.org.uk
Department for Work and Pensions (DWP)
www.gov.uk/government/organisations/…
Disability Benefits Helpline
08457 123 456
Textphone 0845 722 4433
Personal Independence Payment Helpline
0845 850 3322
Textphone 0845 601 6677
Carers' Allowance Unit
Manages state benefits in England, Scotland and Wales.
0845 608 432
Textphone 0845 604 5312
www.gov.uk/browse/benefits
Equality Advisory Support Service
Promotes equality and provides information to people about their rights. The information and support provided by the service is not the same as legal advice but it is able to provide free advice and information about the Equality Act 2010 and the Human Rights Act 1998.
Freepost FPN 4431
Tel 0808 800 0082
Textphone 0808 800 0084
www.equalityadvisoryservice.com
Law Society (England and Wales)
Can provide details of solicitors
113 Chancery Lane
London WC2A 1PL
Tel 020 7242 1222
www.lawsociety.org.uk

Law Society of Scotland
Can provide details of solicitors in Scotland
26 Drumsheugh Gardens
Edinburgh EH3 7YR
Tel 0131 226 7411
Email lawscot@lawscot.org.uk
www.lawscot.org.uk

Law Society of Northern Ireland
96 Victoria Street, Belfast
BT1 3GN
Tel 028 9023 1614
www.lawsoc-ni.org
National Debtline (England Wales and Scotland)
A national telephone helpline for people with debt problems. The service
is free, confidential and independent, and the call handlers also distribute
free self-help materials.
Tricorn House, 51-53 Hagley
Road, Edgbaston,
Birmingham B16 8TP
Freephone 0808 808 4000
www.nationaldebtline.org
Personal Finance Society
The UK's largest professional body for independent financial advisers.
Use the 'Find an Adviser' website to find qualified advisers in your area.
'Find an Adviser' service
42-48 High Road, South Woodford,
London E18 2JP
Tel 020 8530 0852
Email info@findanadviser.org
www.findanadviser.org
Turn2Us
A charity providing an online service to help people in financial need
in the UK. Use its website for free to see information about the benefits
and grants available from both statutory and voluntary organisations. You
can often apply for support from the website.
1 Derry Street
London W8 5HY
Helpline 0808 802 2000
Email info@turn2us.org.uk
www.turn2us.org.uk
Unbiased
Provides advice about benefits and financial issues. You can also search for
a financial adviser
www.unbiased.co.uk
StepChange
Provides free debt advice through phone, email, its website and online via live chats with advisers.
Debt Charity Wade House, Merrion Centre
Leeds LS2 8NG
Tel 080 0138 1111
www.stepchange.org
---
Insurance
Insurancewith
A specialist travel insurance provider for those with pre-existing medical conditions including cancer.
www.insurancewith.com
J D Travel Insurance
Provides cover for people with pre-existing medical conditions, for single trip and annual policies. Travelers undergoing treatment might be able to get cover.
They can't offer cover if you're taking part in a clinical trial. They are also unable to offer cover for people who are expected to live less than 6 months after the holiday return date.
Phone: 0344 247 4749
Email: mail@jdtravelinsurance.co.uk
www.jdtravelinsurance.co.uk
Orbis Insurance
Provides cover with no upper age limit for people with pre-existing medical conditions, for single trip and annual policies. They might ask if you are on a clinical trial.
They offer cover for anyone who is undergoing treatment or waiting for treatment, but they cannot cover people who have been ill for less than 6 months.
Phone: 01274 518 393
Email: orbistravel@riskalliance.co.uk
www.orbisinsurance.co.uk
Insurance Choice
Offers travel insurance to any UK or EU residents with pre-existing medical conditions. There is no upper age limit. They cannot offer cover for people who have been told that they have less than 6 months to live from the date of return from a trip.
Phone: 01926 680 319
www.insurancechoice.co.uk
Freedom Insurance
Offers specialist travel insurance for people with cancer. They may not be able to offer cover if cancer has spread. They are also unable to offer cover to anyone waiting to have surgery or inpatient treatment.
A very large insurance company called AXA underwrites their cover (this means AXA guarantees payment in case of financial loss).
Tel: 01223 446 914 (8.30am – 5.30pm Monday to Friday, 9am – 5pm Saturday)
Online enquiry form
www.freedominsure.co.uk
Insure Cancer
Covers people with cancer for all destinations, including the USA. They will consider cover for people who are having treatment, waiting for treatment, taking part in a clinical trial and people with advanced cancer.
Their main requirements are that your condition is stable and your consultant gives approval for you to make the trip. They'll need a form saying this.
Phone: 01252 780 190 or 0845 649 0190 (9am to 5pm Monday to Friday)
Email: Enquiries@InsureCancer.com
www.insurecancer.com
Free Spirit Travel Insurance
A specialist travel insurance policy for people with pre-existing medical conditions, including cancer.
You may be able to get a quote online, but they might ask you to phone them if they need more information about your current health. Phone for a quote if your cancer is advanced and you're no longer having active treatment, rather than trying online.
They are unable to cover people over 80 years of age if they have a terminal prognosis. They are unable to offer cover for the USA , Canada, China, Hong Kong or the Caribbean to people who have been told they have terminal cancer.
Phone: 02392 419 070 (8am – 6pm Monday to Friday)
E: contact@freespirittravelinsurance.com
www.freespirittravelinsurance.com
World First
World First provides travel insurance for people with existing medical conditions. They provide cover for all destinations, including the USA, for many different types of cancer. They might also be able to cover you if:
– your cancer has spread
– you have had chemotherapy in the last three months or you're having chemotherapy at the moment
– you are taking strong painkillers
– your cancer is unlikely to be cured
You can get a quote either online or by phone, by providing information specific to your cancer type and treatment.
Phone: 0345 90 80 161 (Monday to Friday 9am – 5.30pm, Saturday 9am – 4pm)
Email: info@world-first.co.uk
www.world-first.co.uk/home/travel-insurance/medical-problems/cancer.aspx

This link may be handy in explaining medical travel advice.
---
Equipment and advice on living with a disability
The Blue Badge Scheme (Dept of Transport)
The scheme allows people with severe mobility problems to park close
to their destination. The scheme is administered by local authorities who
deal with applications and issue badges.
Tel Contact your local authority
www.gov.uk/browse/driving/blue-badge-parking (England, Scotland and Wales)
https://www.nidirect.gov.uk/articles/blue-badge-scheme-guide-badge-holders (Northern Ireland)
Disability Rights UK
A national charity which works to improve the living standards of disabled
people. Provides information about benefits and disability rights.
12 City Forum, 250 City Road
London EC1V 8AF
Tel 020 7250 3222
www.disabilityrightsuk.org
Disabled Living Foundation
A national charity that provides free, impartial advice about all types of disability equipment and mobility products through its helpline, website and demonstration centre.
380-384 Harrow Road
London W9 2HU
Helpline 0845 130 9177
Email helpline@dlf.org.uk
www.dlf.org.uk
Motability Scheme
Enables disabled people to exchange their higher rate mobility component
of Disability Living Allowance or their War Pensioners' Mobility
Supplement to obtain a new car, powered wheelchair or scooter.
Warwick House, Roydon Road
Harlow, Essex, CM19 5PX
Tel 0845 456 4566
Minicom 9845 675 0009
www.motability.co.uk
---
Advice about appearance and nutrition
Beautydespitecancer
Provides advice about skincare, haircare, cosmetics and appearance to women affected by cancer and supplies products that can be given as gifts to those undergoing cancer treatment. Also provides more general information about cancer including employment issues.
www.beautydespitecancer.co.uk
Bodysoulnutrition
Provides useful information about nutrition for a healthy lifestyle
www.bodysoulnutrition.co.uk
---
Helpful Books
The Complete Guide to Breast Cancer: How to Feel Empowered and Take Control.
This book brings together all the knowledge they have gathered as patients and as doctors to give you and your family a trusted, thorough and up-to-date source of information. Designed to empower you during your breast cancer treatment, it covers:
-Simple explanations of every breast cancer treatment
-Coping with the emotional burden of breast cancer
-Frank advice about sex and relationships
-Staying healthy during and after treatment
-Dealing with the fear of recurrence
-Living with secondary breast cancer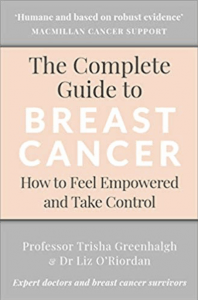 By Trisha Greenhalgh (Author) and Liz O'Riordan (Author)
More details here.
Coping with Chemotherapy and Radiation
Gives information on how radiotherapy and chemotherapy work, how the treatment may affect you and how to cope with and reduce the side effects.
Daniel Cukier et al
McGraw-Hill Contemporary 2004 £8.99
The Cancer Survivor's Companion
For people who have completed their treatment. It looks
at some of the issues people might face after treatment, such as side
effects, diet and exercise, sex and fertility, work and support.
Dr Frances Goodhart and Lucy Atkins
Piatkus 2012 £7.99
It helps cancer survivors deal with the emotional and psychological impact of cancer. Full of practical advice and often recommended to our coaching clients.
More details here.
The Cancer Survivor's Handbook
This book explores some of the concerns, both practical and emotional, which often arise when a person with cancer has officially finished treatment and is faced with picking up the pieces of their lives again.
Terry Priestman, Sheldon Press 2009 £7.99
A Guide to Grants for Individuals in Need (2009/2010)
Directory of Social Change 2009 £50.00
A directory of charities and trusts that provide financial assistance to people in need. A copy is available in most public libraries.
Language guides to support those with Advanced and Metastatic Breast Cancer
What would you say to a friend or patient with advanced or metastatic breast cancer? Do you know what that is and what it means for the person with that diagnosis? In March this year two language guides were published by Novartis which provide practical tips and recommendations about how to talk to patients with either advanced or metastatic breast cancer and/or their relatives.
The two guides represent the outcome of two rounds of consultation with the Patient Community (Breast Cancer patients – various stages) and Breast Cancer Experts (Oncologists, Nurses, Psycho-oncologist), and are meant to facilitate a difficult dialogue around a topic that's too often a "taboo".
Read more/download the guides here: Language guide HCP final Language guide non HCP final
---